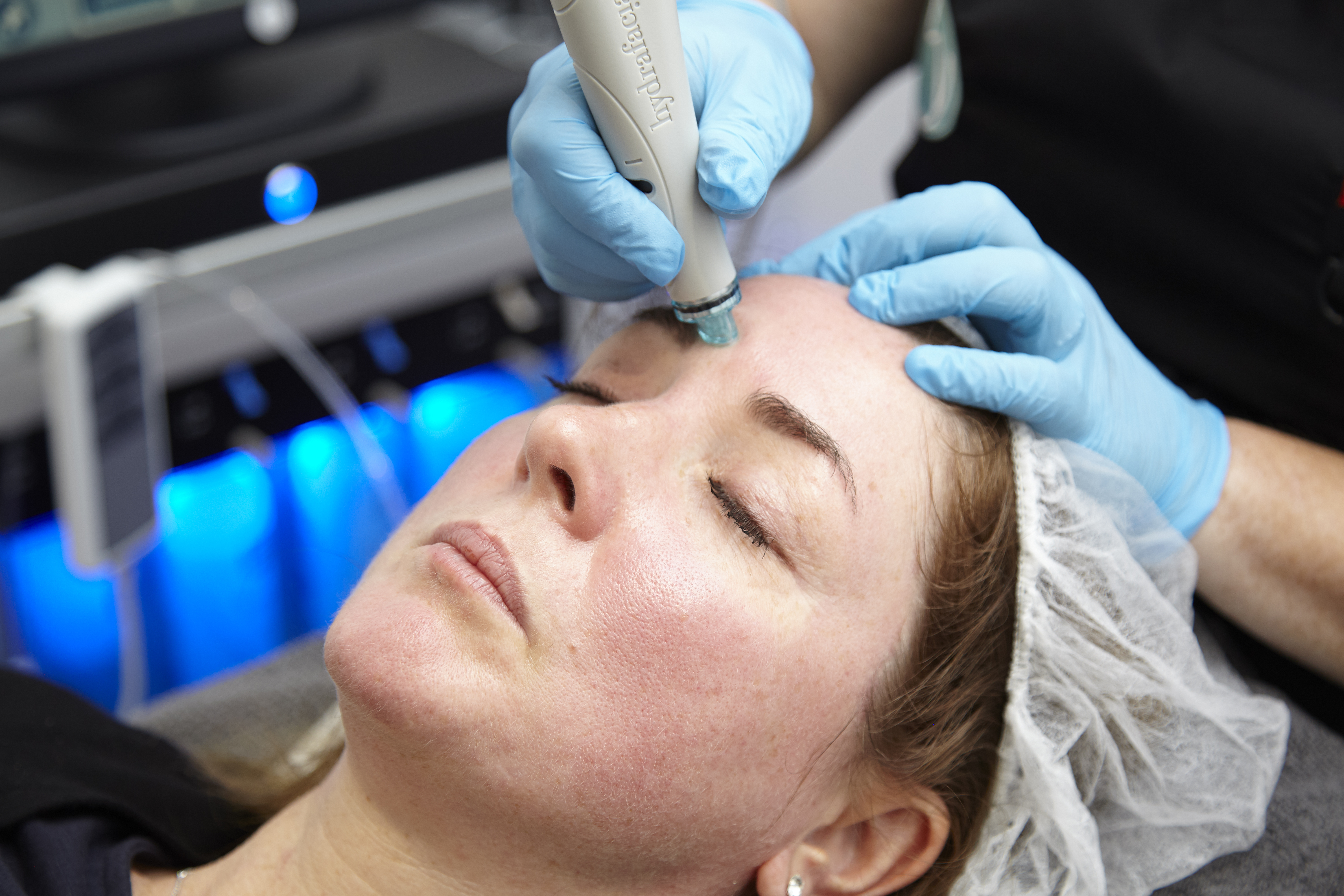 For more information please contact our Nurse Practitioner on +44(0)1133458682.
What Happens during a Hydrafacial ?
Hydrafacial deep cleanses, exfoliates, clears blocked pores, anti-wrinkle, anti-bacterial, acne care, hydrates and nourishes the skin. It encourages the skin to stimulate the production of collagen. Giving smooth skin due to the increased blood circulation. It revitalises and wakens the skin by increasing the lymphatic flow. It uses skin cell stimulation, skin lifting and tightening. This is combined with the following aqua peeling, deep cleanses, exfoliates and digital peeling. The Hydrafacial deeply infuses, hydrates and renews the skin. Acne is benefited with the anti-bacterial, anti-inflammation ans soothing effect. All provided in one facial treatment.
How do Hydrafacials Work ?
HYDRAFACIAL consists of 3 steps : deep cleanse, exfoliate & hydrate.
THE TREATMENT
Only HydraFacial uses patented technology to cleanse, extract, and hydrate. HydraFacial super serums are made with nourishing ingredients that create an instantly gratifying glow in just 3 steps:
CLEANSE + PEEL
Uncover a new layer of skin with gentle exfoliation and relaxing resurfacing.
EXTRACT + HYDRATE
Remove debris from pores with painless suction. Nourish with intense moisturizers that quench skin.
FUSE + PROTECT
Saturate the skin's surface with antioxidants and peptides to maximize your glow.
Why get a pro facial?
Expert skin analysis is key to improving and keeping your skin youthful. It will reveal your skin type, routines and product advice. Providing you with a tailored facial to suit the area or spot you need help with. Professional exfoliation removal of the dead skin cells, which can be penetrated deeper with a machine and that can only be done to a professional standard. Thus resulting in reduced acne and blocked poress. Lastly, collagen, hydration and cell reproduction at its core.
What sets Hydrafacial apart from other microdermabrasion procedures ?
HydraFacial uses a unique, patented Vortex-Fusion delivery system to exfoliate, extract and hydrate skin, and, the spiral design delivers painless extractions.
Watch a Hydrafacial .
Prices
30 min Express Hydrafacial £80
60 min Express Hydrafacial £120
Boosters start from £40 add ons
Dear Clients Hope you are all well and staying safe. We are pleased to annouce we are now taking bookings for Morley and Greengates Clinics in July. We will be following Covid 19 guidelines from the government, public health England and our governing bodies for...
read more
True You Skin Clinics is an award winning nurse led clinic offering advanced non surgical treatments in Leeds and Bradford. Covering clients coming from Wakefield, Shipley, guiesley, Otley, Pudsey, Farsley ,. We believe each client is unique and treatments are tailored to each individuals goals. We believe in enhancing the True You, restoring, rejuvenating and bringing out your inner beauty.