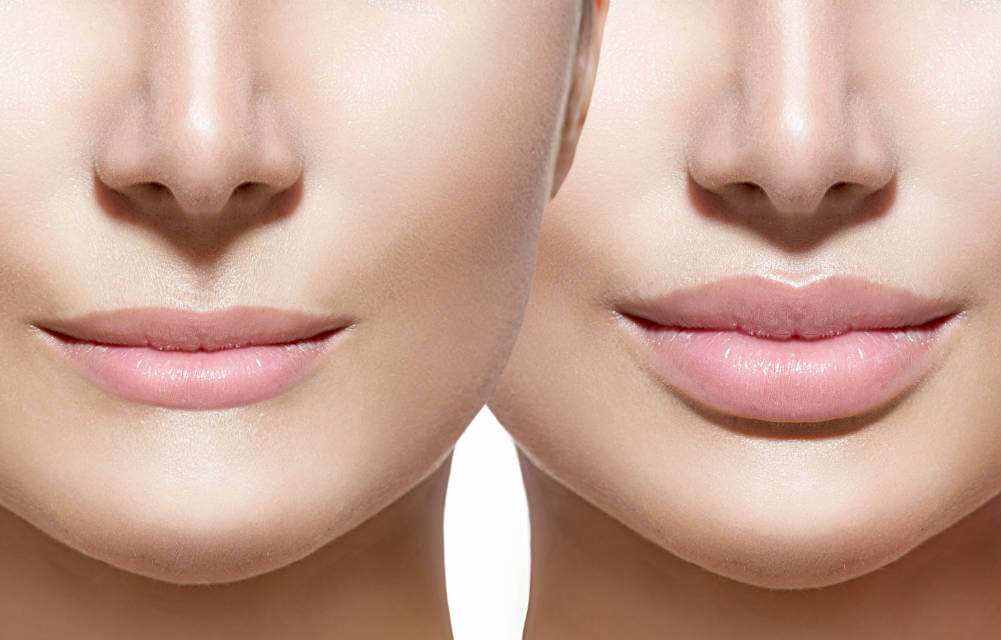 At True You Skin Clinics we use a number of Dermal fillers and tailor these depending on your area to be treated. Dermal fillers may be used for a number of indications.
What are they?
Dermal filler are made up of Hyaluronic Acid (HA), which is a natural occurring molecule. It works a little like a sponge absorbing water up to 1000 times its own weight. Hyaluronic acid fillers are widely used in the United Kingdom due to their high levels of safety and reliability. It is a natural substance which can be found in every living organism. As a result it is biocompatible and side-effects are very rare. Around thirty million individuals have benefited from treatment with hyaluronic acid fillers. Hyaluronic acid fillers come in varying levels of thickness and so they are a flexible option to improve different sections of the face. Thinner fillers are more suitable for wrinkles and fine lines, or enrichment of the lips, while thicker fillers are able to address very deep wrinkles and volume loss, lasting between six and twelve months
How do they work?
Dermal fillers achieve a plumping effect by placing the product under the layers of the skin. Different fillers achieve this goal in slightly different ways. It is a non surgical treatment that will improve fine lines and wrinkles by adding volume, improving folds and sagging skin.
---
The treatment is successful by taking advantage of the basic roles and functions of the skin, which can also help in fully understanding the procedure. The human skin is made up of two layers, namely the epidermis and the dermis. The outermost layer is the epidermis and its main function is to serve as protection against the effects of the environment and other components. It controls water loss from tissues and cells, thus serving as a barrier to the outside environment.
The dermis layer is right below the epidermis and constitutes the skin's structural elements, such as nerves, hair follicles and blood vessels. The growth of cells and blood vessels is enhanced through a framework provided by a network of fibres that is formed by protein.
The major component of the dermis is collagen which gives the skin its firm elasticity and strength, offering fundamental support to the skin. As one grows old the ageing process causes the upper layer (the epidermis) to gradually become thin and provides less protection to the dermis layer. In addition, collagen production in the body slows down considerably as the existing collagen becomes ineffective.
This then causes wrinkles, folds, depressions and other forms of skin abnormalities associated with old age. It is at this point that dermal fillers become necessary to reduce the consequences of the deteriorating epidermis and weakened collagen. Dermal fillers technically work as replenishment for the natural collagen which has been rendered less effective by the ageing process. They work as collagen and, depending on the quality of the system used, impressive results can be achieved.
At True You Skin Clinics, we only use FDA approved Dermal Fillers; this ensures you are undertaking a treatment that gives maximum results and reduces health risks.
Who are suitable for Dermal Fillers?
The most common use for dermal fillers has been to increase the volume and size of women's lips, with many types of dermal filler designed for this function due to the scale of the market. Women are looking to maintain their beauty and not let it lapse during their lifespan, which is why the option of dermal fillers to reverse or even postpone the unappealing signs of ageing is an advantageous choice. However, there are other popular uses of dermal fillers which are beneficial for both men and woman.
Facial lines are quite common due to advanced age and stress. Dermal fillers are effective in filling lines and improving facial aesthetics. One of the most common lines able to be filled in both genders is nasolabial lines, which are lines traversing from the nose to the corners of the mouth. These are commonly called smile or frown lines.
Wrinkles are an equally common condition which can be treated, and these include forehead wrinkles and wrinkles around the eyes, more commonly referred to as "crow's feet". Other commonly treated skin conditions are weak and sunken cheeks, acne scars and regular scars, and varicose veins in aged skin. Generally, the lines, wrinkles and folds able to be treated by the application of dermal fillers are lip lines, tear troughs (tired, baggy eyes), marionette lines (mouth to chin), frown lines, crow's feet (around the eye), and nasolabial lines (nose to mouth).
Other applications can be classified under skin rejuvenation or contouring and enhancement. For rejuvenation the various parts that can be treated include the face, neck and the back of the hands. Contouring and enhancement include eyebrow reshaping, chin enhancement, cheek sculpting for sunken cheeks, shaping saggy jowls, turning up the mouth corners, nose contouring and lip enhancement.
Should you desire to have fillers on the upper regions of the face, the general recommendation is that fillers should be used in conjunction with muscle relaxant injections. There are a wide variety of conditions which can be treated by dermal fillers, and these include larger skin defects in the rest of the body.
Who are contraindicated for Dermal Fillers?
People who suffer from the following conditions are contraindicated for Dermal Fillers:
What should I expect during my treatment?
Before having dermal filler treatment you will need to visit a practitioner to guide you through the process of selecting the best dermal filler for your skin. This is also a great opportunity to discuss the results you would like to achieve. Consent is also signed before undergoing treatment to ensure the patient understands possible effects. The initial treatment can often take place during the first visit.
Treatments involving wrinkles and lines often require anaesthetic cream, which is applied around twenty minutes prior to having treatment. The function of the cream is to help numb the area for treatment and reduce pain when the injection is used. Depending on the type of filler and the area undergoing treatment, different types of injection will be used. In the treatment of filling out wrinkles there are two injection techniques that can be used: the linear threading technique and the serial puncture technique.
In the linear technique the full length of the needle is inserted midway into the wrinkle and the material injected while pulling the needle slowly backwards. The serial puncture technique involves several injections alongside the wrinkle to lift it. To maintain the results of treatment top ups can be performed, depending on the type of filler used. The recovery time will take around 30 minutes in most cases or hours in a few incidences, but the overall time needed to heal will depend on the type of filler used.
Most people will have no problem going back to work immediately after treatment as the procedure is fast and effective. If all instructions for dermal fillers are followed and prior measures are taken to ensure the right filler is selected, the process will be comfortable, fast and provide an effective recovery time
What should I expect following my treatment?
Following your treatment you may experience some redness, swelling or tenderness at the treatment site. Occasionally some bruising may occur around the treated area; this is usually short term and will subside withing a few days. Lip treatments may take a little longer to settle, sometimes a week later.
What are the common side effects?
Each kind of dermal filler has its own side-effects and these may show up at different stages. This will mostly depend on the type of dermal filler used and also the length of time one is exposed to the filler. One other factor that determines the level and type of effects is when the product was manufactured and the actual manufacturer. As you would expect, the quality of fillers should be determined by the qualified and skilled administrators of the fillers to ensure there is no problem.
The treatments are not normally very painful but this will depend on the type of pain control in operation and the specific area of injection. More pain is usually encountered in treatments around the lip and nose areas. The most common side-effects include bruising, bleeding, itching, skin discoloration, viral infection, bacterial infection, redness and swelling at the region of injection, allergic reactions, lumps under the skin and skin ulceration in the injected area.
The important point to note is that most of these effects are expected when going through dermal treatment, and that they will disappear within a period of two to three days. If they persist then it becomes necessary to check with a qualified medical person to ensure everything is normal and there is no problem.
After care advice
Until the initial swelling has resolved, do not use sunbeds, saunas, steam rooms and avoid extreme temperatures. You will be asked to wear a sun protection of minimum 30 SPF. If you are taking Aspirin or any similar medication this may increase the risk of bruising at the injection site. Do not rub or massage the treated area unless asked by your practitioner. Avoid applying make up for 12 hours and avoid touching the area for at least 6 hours post treatment. If you have undertaken a lip treatment you may be asked to use a cream following your treatment.
What areas can be treated with Dermal Fillers?
Prices
Belotero Glabellar 1ml – £200
Rediesse Hand Rejuvenation – £330
Belotero 1ml – £200
Cheek Volumisation 1ml – £275
Cheek Volumisation 2ml – £450
Consultation – £30
Frown Lines – £200
Lip Enhancement 0.5ml – £180
Lip Volumisation 0.5ml – £180
Lip Volumisation 1ml – £250
None Surgical Rhinoplasty – £350
Nose to Mouth Lines – £250
Profhilo – £500
Radiesse Plus 0.8ml – £180
Radiesse 1.5ml – £375
Smokers Lines 1ml Beletero – £200
Tear Trough – £400
  What is a venous lake ? Lesions that  are usually found on the lip area.  What causes a venous lake to appear on the lips ? The most common cause is usually due to chronic sun damage This can cause damage to the walls of the superficial veins , thus resulting in an...
read more