The all-in-one professional facial. The Hydrafacial stimulates skin tissue and  hair roots. Gives skin elasticity and is a preventative anti-ager: collagen remodelling & improved skin elasticity.  Your skin with be smooth, it will improve your  skin texture and will help  to produce collagen and elastin. Not only this, but it is safe and painless, with immediate effect.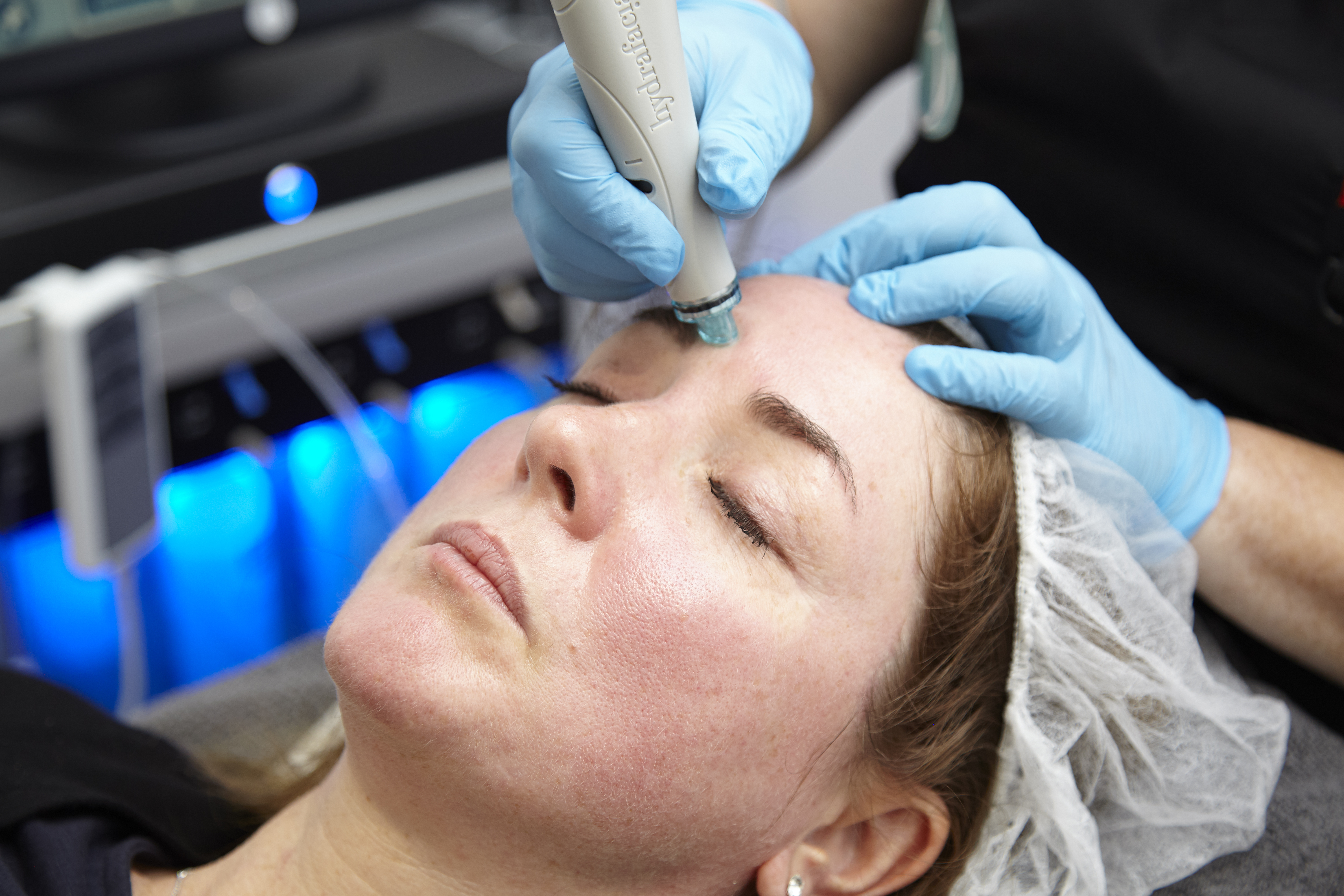 What Happens during a Hydrafacial ?
Hydrafacial deep cleanses, exfoliates, clears blocked pores, anti-wrinkle, anti-bacterial, acne care, hydrates and nourishes the skin. It encourages the skin to stimulate the production of collagen. Giving smooth skin due to the increased blood circulation. It revitalises and wakens the skin by increasing the lymphatic flow. It uses skin cell stimulation, skin lifting and tightening. This is combined with the following aqua peeling, deep cleanses, exfoliates and digital peeling. The Hydrafacial deeply infuses, hydrates and renews the skin. Acne is benefited with the anti-bacterial, anti-inflammation ans soothing effect. All provided in one facial treatment.
How do Hydrafacials Work ?
HYDRAFACIAL consists of 6 steps :lymphatic drainage, deep cleanse, exfoliate & hydrate, antioxidants and light therapy.
THE TREATMENT
Only HydraFacial uses patented technology to cleanse, extract, and hydrate. HydraFacial super serums are made with nourishing ingredients that create an instantly gratifying glow in just 3 steps:
CLEANSE + PEEL
Uncover a new layer of skin with gentle exfoliation and relaxing resurfacing.
EXTRACT + HYDRATE
Remove debris from pores with painless suction. Nourish with intense moisturizers that quench skin.
FUSE + PROTECT
Saturate the skin's surface with antioxidants and peptides to maximize your glow.
What sets Hydrafacial apart from other microdermabrasion procedures ?
HydraFacial uses a unique, patented Vortex-Fusion delivery system to exfoliate, extract and hydrate skin, and, the spiral design delivers painless extractions.
What are the different Hydrafacial treatments available in True You Skin Clinics ?
Signature Hydrafacial £95
  The signature Hydrafacial is a 30 minute procedure . The treatment deep cleanses, extracts and hydrated the skin. It includes cleansing and exfoliation. A solution is then applied to remove debris from the pores , exfoliate and finally applying antioxidants and hydrating the skin. This is suitable for all skin types and is a really popular treatment for teenage acne prone skin. 
 Delux Hydrafacial £120
   Our Delux Hydrafacial includes  all of the above with an added treatment of light therapy .The light therapy treatment is tailored to your skin condition. The Blue  light is used to help reduce bacteria on the skin for acne suffers, or stimulating collagen using our red light. This does not include the lymphatic drainage . ( if you are suffering with congestion or fluid collection the Platinum would be more appropriate )
 Platinum Hydrafacial £130
Our Platinum is our most popular treatment. This includes a lymphatic drainage  to help remove toxins  and improve lymph drainage.  A double cleanse  and peel to uncover a layer of skin with gentle exfoliation , removing debris . Antioxidants are then applied to the skin with intense moisturisers that quench the skin and maximise your glow. A light therapy is used to sit,ulate collagen and improve the overall health of the skin. 
 Platinum Hydrafacial with Skin Boosters £160
 Our Platinum Hydrafacial with skin boosters  is the above with the added benefit of our boosters added. We do a number of boosters tailored to each skin concern . These may include redness, pigmentation, acne, lines and wrinkles.
What are the different boosters available ?
Brightalive Booster – Helps to reduce pigmentation
Dermabuilder Booster –  improves fine line and wrinkles
Rozatrol Booster – Reduces redness and calms the skin
Firming Serum Accelerator – Fimr at the skin stem,ilating collagen
Prices
30 min Hydrafacial Signature  £95
60 min Hydrafacial Platimum £130
75 minute Hydrafacial with Skin Booster from £160
Boosters start from £40 add ons
Concerns Treated
Hydrafacial treatments targets many skin concerns . These include the below:
Acne – including milia, blackheads, congestions, oily skin and open pores.
Rosacea – facial redenning , sensitive skin , 
Pigmentation – sun damage, age spots , melasma
Fines lines and wrinkles – ageing fine line and wrinkles
For more information please contact our Nurse Practitioner.
Reviews
Nahnay,Leeds
Suffering from acne since starting puberty at 11. I persevered with many treatment, pill and washes from doctors, which miserably failed. I finally discovered Lindsey's miracle treatments. Although I was dubious that this would not work as nothing else has before now, I was willing to try anything. She recommended I have medical microdermabrasion and skin peels to shift the acne, she also suggested I use a dermaroller therapy to treat the scaring left from years of picking and squeezing. I know that without this treatment I would still be going round in circles with prescriptions and high street products which just made things worse for me, my only regret is not finding out about this earlier. Now I am so glad to have finally got clear face and my confidence back, at last I feel like a women and not a spotty teen any more. I am thankful to Lindsey for her care, she made my number one wish come true.
Sarah, Leeds
I have visited many skin clinics over the years with my problematic skin ( acne ) on each and every occasion they have tried to sell me unsuitable products and treatments rather than trying to help me control my skin. Lindsey has not only been extremely helpful and knowledgeable but will also only ever advise on products and treatment that will benefit my skin rather than a hard sell. Not only would I recommend this clinic to others but will not use any other clinic in the future. It makes a refreshing change to know there are still clinics out that that care about customers rather than just wanting to sell products and treatments that are unsuitable
Laura, Leeds
I came to the clinic to see Lindsey after suffering from acne for 13years! I didn't even like taking my make up off! She made me feel really relaxed! After regular microderm sessions my skin is amazing! My confidence has soared and I am happy to go without makeup! Microderm will be a part of my skincare routine forever!
Book a consultation
Leeds: 0113 345 8682
Bradford: 01274 622480