Your concerns
Forehead & Frownlines
Forehead wrinkles and frown lines are one of the most frustrating signs of ageing. Some people get vertical lines between the eyebrows (often called "frown lines"), while others get lines right across the forehead, or if you're really unlucky you end up with both.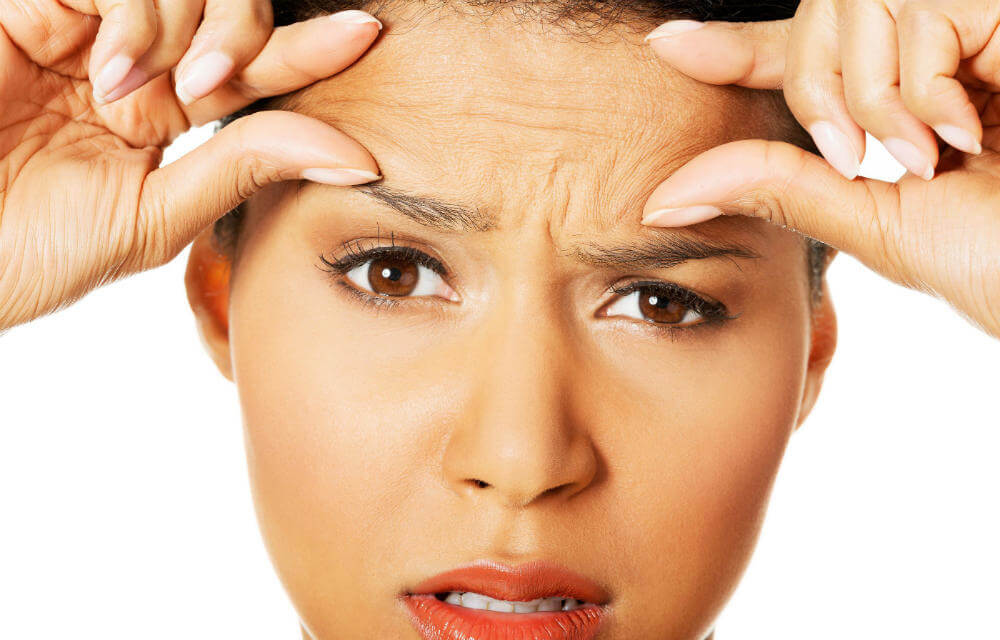 How Does it Affect Me?
Aside from scarring, its main effects are psychological, such as reduced self-esteem and in very extreme cases, depression or suicide. One study has estimated the incidence of suicidal ideation in patients with acne as 7.1%. Acne usually appears during adolescence, when people already tend to be most socially insecure. Early and aggressive treatment is therefore advocated by some to lessen the overall long-term impact to individuals.
What treatments are available for acne at True You ?
We offer a range of treatments for acne at True You Skin Clinics  that will be tailored to your needs.
Our chemical peels  are tailored for each individuals needs. Please view our page on chemical peels to read more.
Chemical Peels: from £95
www.trueyouskinclinics.co.uk/chemnical peels/
Skincare- ZEIN OBagi
WE use Zein Obagi Skin care in clinic which is a medical grade skincare range . Please cook a consultation with one of our skincare specialist to see how we can help you improve your acne.
https://www.trueyouskinclinics.co.uk/product-category/zo-skin-health-products/acne/
Plasma Shower
https://www.trueyouskinclinics.co.uk/plasma-acne-shower/
Hydrafacial
Hydrafacial is our advanced  skin treatments in clinic. Using the latest technology it is one of our most popiular in treating acne. Please read more about our Hydrafcial here.
https://www.trueyouskinclinics.co.uk/hydrafacial/
When Can It Occur?
Acne occurs most commonly during adolescence, affecting an estimated 80-90% of teenagers in the Western world. Lower rates are reported in some rural societies. In adolescence, acne is usually caused by an increase in androgens such as testosterone, which occurs during puberty, regardless of sex. For most people, acne diminishes over time and tends to disappear — or at the very least decreases — by age 25. There is, however, no way to predict how long it will take to disappear entirely, and some individuals will carry this condition well into their thirties, forties, and beyond.
Why Is My Skin Inflamed?
Some of the large nodules were previously called "cysts" and the term nodulocystic has been used to describe severe cases of inflammatory acne. The "cysts", or boils that accompany cystic acne, can appear on the buttocks, groin, and armpit area, and anywhere else where sweat collects in hair follicles and perspiration ducts. Cystic acne affects deeper skin tissue than does common acne.
Prices
Acne Peel: £65 or a course of 6 for £300
Hydrafacial prices start from £80  ( discount for course are available)
Plasma shower £65 per session ( discount for courses are available)
Acne Scarring: Starting from £99 – price to be discussed at consultation
Treatments Available
Active wrinkles which are visible only with muscle contraction are best treated with Botox injections. Small doses injected in multiple areas of the forehead will significantly reduce active forehead lines.
 At True You Skin Clinics we offer a wide range of treatments to wrinkles to the frown forehead  and other areas of the face including the neck.
Botox. ( Botulinum Toxin)
Viscoderm ~Hydrobooster 
ZO Skin Consult
Hydrafacial with Dermabuild  
Pixel Yag Laser  
EndMed Fractional Skin resurfacing 
Please call +44(0)113 345 8682 for further information on how to book a consultation.
Reviews
Book a consultation
Leeds: 0113 345 8682 Bradford: 01274 622480