Profhilo is an innovative  approach to anti ageing which counters acts skin laxity of the face and in areas traditionally difficult to treat , such as the neck , hands and arms.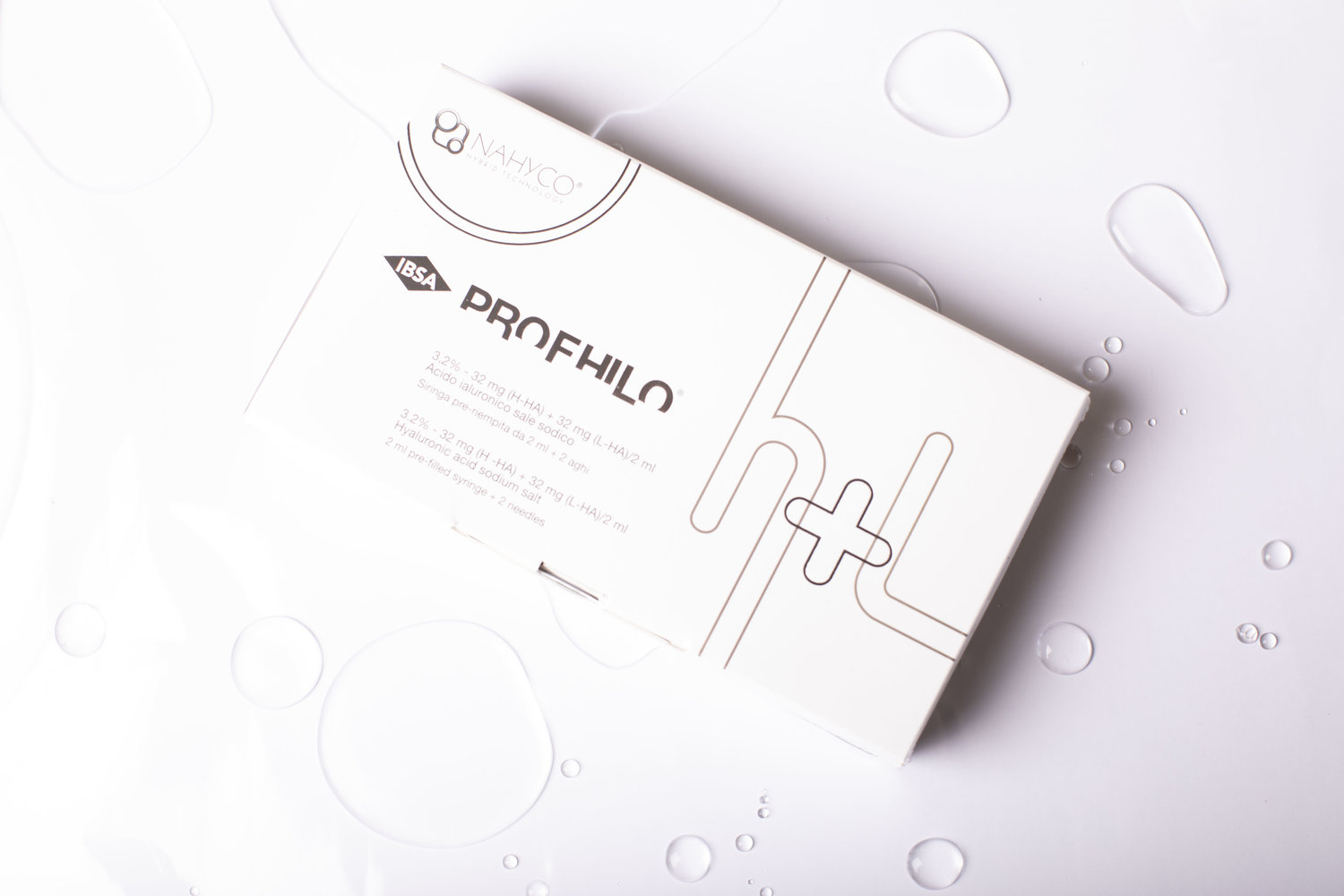 What is Profhilo ?
Profhilo is an hyaluronic acid  which is injected into the dermis of the skin. 
It integrates into the tissue where it restores the levels of hyaluronic acid naturally in the skin.
Who is suitable for Profhilo ?
The most common use for dermal fillers has been to increase the volume and size of women's lips, with many types of dermal filler designed for this function due to the scale of the market. Women are looking to maintain their beauty and not let it lapse during their lifespan, which is why the option of dermal fillers to reverse or even postpone the unappealing signs of ageing is an advantageous choice. However, there are other popular uses of dermal fillers which are beneficial for both men and woman.
Facial lines are quite common due to advanced age and stress. Dermal fillers are effective in filling lines and improving facial aesthetics. One of the most common lines able to be filled in both genders is nasolabial lines, which are lines traversing from the nose to the corners of the mouth. These are commonly called smile or frown lines.
Wrinkles are an equally common condition which can be treated, and these include forehead wrinkles and wrinkles around the eyes, more commonly referred to as "crow's feet". Other commonly treated skin conditions are weak and sunken cheeks, acne scars and regular scars, and varicose veins in aged skin. Generally, the lines, wrinkles and folds able to be treated by the application of dermal fillers are lip lines, tear troughs (tired, baggy eyes), marionette lines (mouth to chin), frown lines, crow's feet (around the eye), and nasolabial lines (nose to mouth).
Other applications can be classified under skin rejuvenation or contouring and enhancement. For rejuvenation the various parts that can be treated include the face, neck and the back of the hands. Contouring and enhancement include eyebrow reshaping, chin enhancement, cheek sculpting for sunken cheeks, shaping saggy jowls, turning up the mouth corners, nose contouring and lip enhancement.
Should you desire to have fillers on the upper regions of the face, the general recommendation is that fillers should be used in conjunction with muscle relaxant injections. There are a wide variety of conditions which can be treated by dermal fillers, and these include larger skin defects in the rest of the body.
Who is contraindicated for Profhilo ?
People who suffer from the following conditions are contraindicated for Dermal Fillers:
Pregnancy or lactating
Active infection in the area to be treated
Active herpes
Immunosuppressed
What should I expect following my treatment?
Following your treatment you may experience some redness, swelling or tenderness at the treatment site. Occasionally some bruising may occur around the treated area; this is usually short term and will subside withing a few days. Lip treatments may take a little longer to settle, sometimes a week later.
What are the common side effects?
Each kind of dermal filler has its own side-effects and these may show up at different stages. This will mostly depend on the type of dermal filler used and also the length of time one is exposed to the filler. One other factor that determines the level and type of effects is when the product was manufactured and the actual manufacturer. As you would expect, the quality of fillers should be determined by the qualified and skilled administrators of the fillers to ensure there is no problem.
The Profhilo treatment should not be  painful but this will depend on each indiviual .. The most common side-effects include bruising, bleeding,
On rare occasionsitching, skin discoloration, viral infection, bacterial infection, redness and swelling at the region of injection, allergic reactions, lumps under the skin and skin ulceration in the injected area.
After care advice
for the first two weeks  do not use sunbeds, saunas, steam rooms and avoid extreme temperatures . Avoid strenuous exoercise for 48 hours . You will be asked to wear a sun protection of minimum 30 SPF. If you are taking Aspirin or any similar medication this may increase the risk of bruising at the injection site. Do not rub or massage the treated area. Avoid applying make up for 12 hours and avoid touching the area for at least 6 hours post treatment. It is not advisable to undertake this treatment at the same time as a Botox treatment around the eyes. We would recommend two weeeks post treatment.
What ares can be treated with Profhilo?
What other Dermal fillers are used at True You?
At True you we only use Dermal filleras that have undertaken extensive clinical trials. It is always important to ask your practitioner what qualifications they have, are they medical , do they have insurance. Do not be afraid to ask questions. At True You your safety is our priority. Belotero Juvederm Restylane Teoysal Radiesse Emerval Aliaxin Hydrobooster
Prices
Full face £500 for two treatments 4 weeks apart
Neck £500 for two treatments 4 weeks apart
Declotte £500 for two treatments 4 weeks apart
Choose two of the above in a single treatment for £800
Choose three of the above in a single treatment for £1000
Maintenace of a single area £250 every 3 months 
Maintenace of two areas £450
Maintenance of three areas  £700
Reviews
Book a consultation
Leeds: 0113 345 8682 Bradford: 01274 622480